Angie is a certified yoga teacher with
over 20 years of yoga experience. SCHEDULE - JANUARY
Her background in natural therapies helps her CLASS DESCRIPTION
put emphasis on the therapeutic benefits of RATES
yoga and explain these benefits to her students.
Her teaching is Iyengar based, focusing on correct
alignment and use of props, both meant to avoid
injury and help mastering of the poses.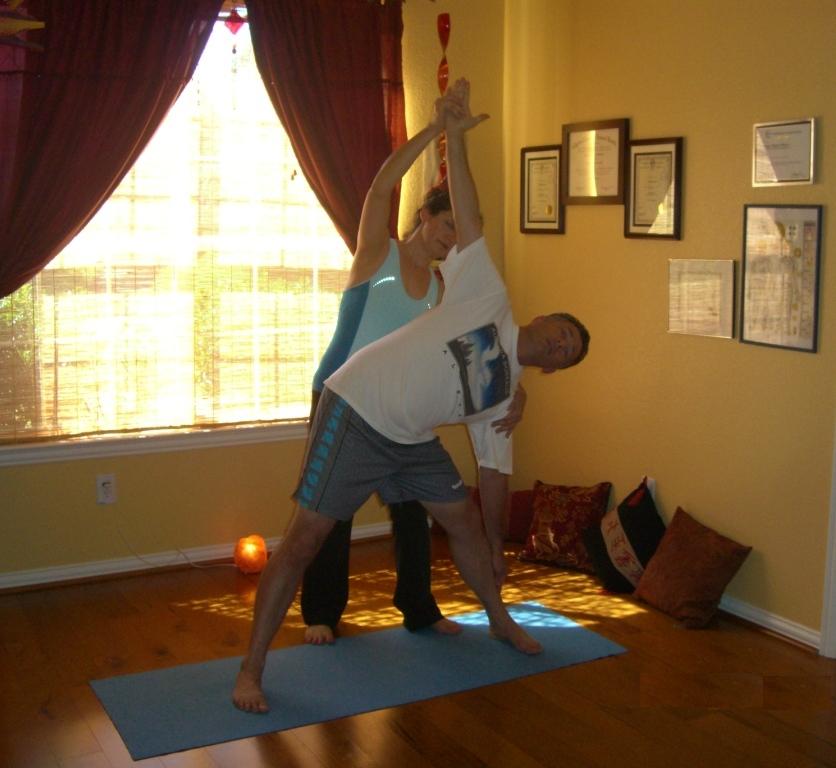 Poses are explained with great detail and errors are actively corrected.
In her classes and lessons Angie combines the rigorous Iyengar principles she was schooled by with gentler Vinyasa sequences.
Every lesson is ended with at least 5 minutes of relaxation, to allow the body to fully benefit from the yoga session.
Classes and lessons are 60 to 75 minutes in length.
See classes offered, schedule and more details below.
Pre-registration to classes is required. Please call 214-738-1555 or email ndshiatsu@yahoo.com to register ahead of time and reserve your spot in a class. All classes are subject to minimum participants.
Rates:
Please note class cards are valid for two months from day of purchase.
| | | | |
| --- | --- | --- | --- |
| | Regular Yoga | Mommy & Me | Chair |
| 1 single class | $ 15 | $ 20 | $ 5* |
| 4 class card | $ 56 | $ 75 | $ 20* |
| 8 class card | $ 104 | $ 140 | $ 40* |
| | | | |
| Private yoga session | $80/ session | $80/ session | $80/ session |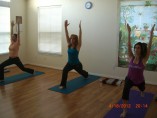 * Senior group rates only
YOGA CLASSES
Beginners and Intermediate Yoga – Iyengar style
- Gaining strength and improving flexibility
- Learning how to breathe easier and better through yoga breathing techniques
- Stress relief
- Improving posture and body awareness
- Improving balance and coordination
- Increasing range of motion
- Mind – body connection
- The Iyengar tradition focuses on learning HOW to do the poses and making sure that your body is in the correct alignment
- In the beginners series: poses will be taught from their basic building elements
- The advanced series will allow more time for more advanced poses and for pranayama (yogic breathing techniques)
- Classes are 75 minutes long. Bring a yoga mat if you have one.
Chair Yoga – Reverse the aging process!
- Yoga performed while seated on a chair – and standing, having the chair handy for support
- Offers the yoga benefits – without having to sit on the floor – being well adjusted for people who wish to avoid getting down and up from the floor, or people who have difficulty lowering their heads (e.g. prone to dizziness).
- Improves strength, flexibility, balance and posture
- Lowers blood pressure and blood sugar
- Decreases anxiety and stress
- Reduces pain and stiffness from arthritis
- Improves breath capacity
- Improves focus and concentration
- Enhanced mood and sense of well being
- Classes are 55 minutes long. Please bring a water bottle.

Restorative
- Learn how to relax deeply and completely
- More extensive use of bolsters and other props for support
- Learn how to fully release into yoga poses
- Benefits all internal organs
- Greatly benefits the nervous system
- Classes are 75 minutes long. Bring a yoga mat if you have one and a towel .
Private lessons
Originally yoga was taught in India in one-on-one sessions, during which a "yogi" (disciple) learned from a yoga "guru" (experienced in yoga). One-on-one work allows for more attention to be given to the quality of movement, correct body alignment and posture, breathing, gradual improvement and avoiding of injuries.
- Great attention is given to individual needs
- Customized practice
- This option is best suited for those new to yoga, pre-natal yoga, recovering after surgery, and yoga for specific ailments.